Cremated remains (ashes)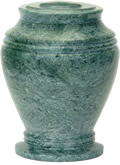 When the committal service in the crematorium chapel has been completed, the cremation will take place shortly afterwards. Each coffin is cremated individually and after each cremation the cremated remains (ashes) are removed and kept separately so that each family receives the remains of their relative. 
The ashes are returned to you in the standard issued Urn from the Crematorium but can easily be transferred into an Urn or Casket of your choice. 
As part of our Service we will collect the ashes on your behalf and deliver them to you or keep safe in our offices until such a time you wish to collect them.   We can include in our Service to you, the interment of ashes in a churchyard or cemetery.