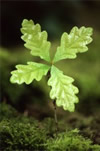 Woodland, green and environmentally-friendly funerals
It is important to realise that there is a difference between Woodland burials and/or eco-funerals and non-religious or Humanist funeral services. For many people the combination of a non-religious service and a green funeral with a cardboard coffin may be ideal, but it is not necessarily the same. One family may want a bamboo coffin and a Catholic Requiem Mass in church followed by a burial in the garden of a family member — all of which can be arranged. Another family may want a non-religious funeral service using a traditional-shaped coffin followed by a burial in a green cemetery
A green or eco coffin

All funerals whether they are simple, traditional, alternative or environmentally aware, are made up of the 'service element' and the 'physical aspect'. The type funeral service that should be arranged should naturally reflect an individual's character, their way of life, beliefs and ideals. The physical element of a funeral and the only part that will have any effect upon the environment is the Coffin.

Woodland or green burial

Woodland burial offers a natural form of burial and can provide important environmental benefits as well as giving a true sense of creating life from death. In recognition of public concern for environmental matters many cemeteries up and down the country are now able to offer this alternative to traditional practices of burial and cremation.

What is a woodland or green burial?

Many people have different concepts of "Green" and "Woodland" burials but generally it can be defined as an environmentally friendly way of disposing of human remains. Usually there is an area of the cemetery which has been set-aside for people who do not wish to have a traditional burial but who wish to be buried. Once a burial has taken place the grave remains "forever" in the natural setting of woodland. It is envisaged that as the woodland begins to mature, it will become a haven for wildlife and wild flowers. This is a return to nature in the true sense and will create a haven of peace and tranquillity.

The grave

Exclusive rights (ownership) of the graves can range from 25 years to 100 years depending on the cemetery. Unfortunately each grave will only accept a single burial, because to return after a period of time to open a grave for a double burial would damage the maturing woodland. Cremated remains can also be placed in an existing grave.

Tree planting

After the interment has taken place and a period of time has passed to allow the grave to settle, a traditional tree is planted at the foot or head of the grave. The trees are usually planted during the right season and then the area is managed to ensure maximum tree growth and to create conditions for wild flowers and nature to flourish.
Woodland/Green Burial Sites
Tavistock Cemetary

Tavistock
Tel: 01822 612799
Pentiddy Natural Burials

Pensilva - 15 miles from Tavistock
Tel: 07771 322 301
Bidwell Woodland Burial Site

Rattery - 30 miles from Tavistock
Tel: 07973 459 065
Crossways Woodland Burials

Cheriton Bishop - 16 miles from Tavistock
Tel: 01647 24382
Yealmpton Woodland Burial Site

24 miles from Tavistock
Tel: 07739 806 898
Beer Cross Woodland Burials

16 miles from Tavistock
Tel: 01363 877807