Flowers & Donations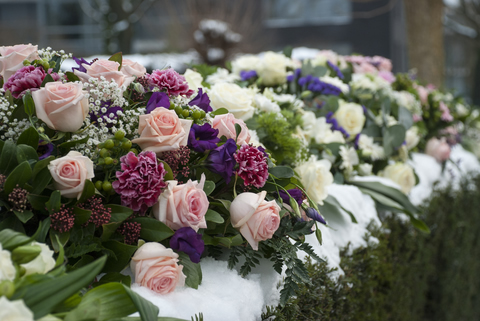 Flowers are traditional at funerals in the United Kingdom. Today there are a variety of options for funeral flowers, though as long as arrangements are tasteful and a tribute to the deceased almost any floral pieces can be present at a funeral.
Flower Choices
Discuss options with a professional florist who may be able to advise on less traditional flowers can be incorporated into a tasteful funeral flower arrangement.
Arrangement Options
In general, casket sprays, wreaths, baskets, hearts, crosses and letters to spell out the deceased's name are popular choices for funeral flower arrangements.  Families can also choose to take flowers from their own gardens or from the deceased's garden and make an arrangement with a truly personal touch.
Donations In Lieu of Flowers
Some families request that donations be made to a chosen charity in lieu of funeral flowers being given. Flowers can however also act as a visible reminder to grieving family members that there are others who are there to support them.
Donations
Morris Bros will, where instructed, collect donations at the funeral service by retiring collection.  Donations can also be sent directly to Morris Bros for addition to the collection from such persons unable to make the service.  We also provide a secure online facility through this website for donations to be made by card payment. 
If you would like to donate then lease select the "DONATE - Make an Online Donation" link on this page or our HOME page.